District Grand Lodge of Mark Master Masons of Jamaica and Cayman Islands
Sligoville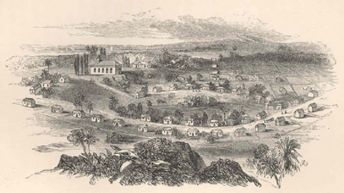 Sligoville
Sligoville, established in 1835 in the parish of St. Catherine, was the first post emancipation free village to be established through the industry of the formerly enslaved in collaboration with the Baptist Church in Jamaica. Located to the north of Spanish Town, the settlement occupies lands in an area formerly known as Highgate.1 It was also the site of and estate and great house of the same name. The area was also known as Government Mountain. Highgate was at one time owned by Howe Peter Browne, the 2nd Marquess of Sligo who was Governor of Jamaica from 1834 to 1836. This period was the beginning of the emancipation of the enslaved and was also the advent of the system of Stipendary Magistrates, established to monitor the transition to full freedom.2
Lord Sligo's tenure in Jamaica was marked by constant friction with the House of Assembly, where he was perceived as being overly sympathetic to the newly liberated enslaved people. He also found himself in conflict with some of the Stipendary Magistrates, whose conduct towards the formerly enslaved he found unduly harsh. The unrelenting imbroglio became untenable and eventually Lord Sligo tendered his resignation to the Secretary of the Colonies, returning to England in 1836.3
The area in which Sligoville developed had been the location of Baptist missionary activity since 1829 led by native Baptists George Lisle and George Knibb. Rev. James Murcell Phillipo became involved in the area in 1834 and established a Baptist Church there in 1835.
On July 10, 1835, Phillipo bought 25 acres of land for £100 on which the village of Sligoville was established. The land was subdivided into ¼ acre lots and sold to the emancipated slaves for the sum of £3.  The list of the original purchasers of lots included:
Henry Lunan
Robert Talbot
William James
James Henry
Lewis Harvey
George Coburn
Elizabeth Francis
Robert Downer
William Hy Cooper
Francis Cooper
Edward Allen
Will Atkinson
Thomas Clarke
Thomas Hy Cooper
Thomas Walters
In October of 1835 construction of a school and Church building began and was completed in time for the celebration of the first emancipation day on August 1, 1838. On June 12, 1840, the village of Sligoville was formally dedicated. It was named after Lord Sligo in honour of his contribution to the process of emancipation.
Sligoville was one of a number of free villages established in post emancipation Jamaica. Others in St. Catherine included Kitson Town, Clarkson Town and Vale Lionel. By 1844 there were 116 free villages spread across six parishes of the island with some 18,365 houses built.4
Sources
Ayre, Sylvester. 1984. The history of Sligoville. Unpublished manuscript.
Facey, Valerie. 1996. The founding of Sligoville. A tribute to Howe Peter Browne, 2nd Marquess of Sligo, Governor of Jamaica, friend and protector of the former slaves of Jamaica. Kingston: The Mill Press